Appleton: Arrest & Conviction
Ohio "Investment Advisor" Pleads Guilty To Defrauding Clients Out Of $5 Million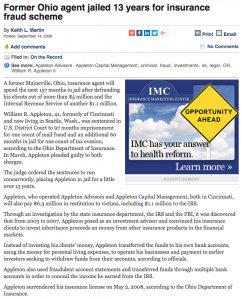 A former Maineville, Ohio, insurance agent will spend the next 157 months in jail after defrauding his clients out of more than $5 million and the Internal Revenue Service of another $1.1 million.
William R. Appleton, 41, formerly of Cincinnati and now living in Seattle, Wash., was sentenced in U.S. District Court to 97 months imprisonment for one count of mail fraud and an additional 60 months in jail for one count of tax evasion, according to the Ohio Department of Insurance. In March, Appleton pleaded guilty to both charges.
The judge ordered the sentences to run concurrently, placing Appleton in jail for a little over 13 years.
Appleton, who operated Appleton Advisors and Appleton Capital Management, both in Cincinnati, will also pay $6.3 million in restitution to victims, including $1.1 million to the IRS.
Through an investigation by the state insurance department, the IRS and the FBI, it was discovered that from 2003 to 2007, Appleton posed as an investment advisor and convinced his insurance clients to invest inheritance proceeds an money from other insurance products in the financial markets.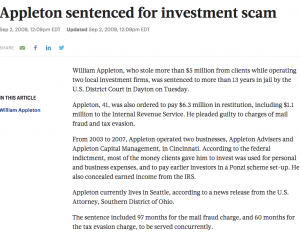 Instead of investing his clients' money, Appleton transferred the funds to his own bank accounts, using the money for personal living expenses, to operate his businesses and payment to earlier investors seeking to withdraw funds from their accounts, according to officials.
Appleton also used fraudulent account statements and transferred funds through multiple bank accounts in order to conceal the income he earned from the IRS.
Appleton surrendered his insurance license on May 2, 2008, according to the Ohio Department of Insurance.
We Still Need Your Help
While there is some relief that this man has been convicted and served time in prison, there are many victims who have little hope of having their stolen funds and possessions returned. Some legal analysts have commented that Mr. Appleton got off with little more than a slap on the wrist, despite the millions he stole.
We still need your help in locating hidden funds and/or stolen merchandise.